HOME PRINTABLES BIG BUNDLE OFFER Worth Over $1200! (Save 98%)
Regular price
$19.99
Sale price
$1,200.00
⭐⭐⭐⭐⭐ See Product Reviews

Purchased from us? Please Review Us on Trustpilot.

Passion Fury is an Apparel & Art Store run by Andrew Kelsall BA (Hons), a creative Designer from England, UK. For the past 20+ years, I have been offering my services online as a graphic designer via Andrew Kelsall Design. Whilst working as a freelancer for small and larger Blue-Chip clients Worldwide, I also worked on an Etsy Store, where I sold mainly artwork and collected ⭐⭐⭐⭐⭐ reviews. Here are selected reviews from the 5-Star Feedback receive.

☑ Verify Genuine Etsy Reviews Here.

⭐⭐⭐⭐⭐ | Eliza on April 23, 2023

Pretty sticker and fast shipping

⭐⭐⭐⭐⭐ | Kodi on Dec 6, 2022

Awesome, just what i was looking for, thankyou!

⭐⭐⭐⭐⭐ | Yohana on Jul 28, 2022

Very nice shirt and print..very durable and size is true

⭐⭐⭐⭐⭐ | Beth on Jun 10, 2022

BRILLIANT! Thanks so much for this great helpful tool.

⭐⭐⭐⭐⭐ | Martina on May 30, 2022

Excellent quality poster, it's just as advertised

⭐⭐⭐⭐⭐ | Brian on May 30, 2022

Love it! Fits my personality!

⭐⭐⭐⭐⭐ | Brian on May 3, 2022

Everything was great! looking forward to giving it to my brother! thanks

⭐⭐⭐⭐⭐ | Anna on Feb 25, 2022

Great quality, exactly as described. Very helpful in learning the circle of 5ths!

⭐⭐⭐⭐⭐ | Juan on May 7, 2019

I love the t-shirt! Great quality & fit. Fast shipping

⭐⭐⭐⭐⭐ | Mai Thoi on Jan 28, 2022

Great product. Love the look.

⭐⭐⭐⭐⭐ | Colleen on Jan 25, 2022

Gorgeous silky card stock. colors vibrant and even. only mistake was my own. I should have ordered it framed.

⭐⭐⭐⭐⭐ | Hildie on Nov 16, 2021

Adds to my festive atmosphere with a sweet message and design.

How are Passion Fury Tees Made? How do they fit?

Check out our videos which show how our Tees fit, and how they are Printed and Packaged, too!
Do you have spare frames lying around, but with no modern artwork to display?
Then fill these frames with a selection of over
150 Printables
that you can simply print-out at home and hang the same day!
This is a Limited Time Offer! Take a look at All the Designs in this Big Bundle Sale Offer...

1. TRENDING HOME DECOR
REVIEW - Satisfied Customer Natalie Moore: "You really need to get your designs on Instagram. The Interiors Community are Loving Your Prints 😊" (see details of this review at the end of this page).

2. PALMS & CACTUS RANGE
Take advantage of the growing trend to Save Money by printing your artwork at home...
3. BATHROOM RANGE 1
Read some 5-Star Customer Reviews further down the page...
4. BATHROOM RANGE 2
5. RUSTIC ARROWS RANGE
6. USA COORDINATES RANGE
7. STAG/DEER HEADS
8. BANANA LEAVES & PINEAPPLES
9. MONOGRAM SET
 10. MODERN PRINT RANGE
11. GEOMETRIC RANGE
12. MOTIVATIONAL QUOTES
Hurry! This is a Limited Time Offer!...
CUSTOMER REVIEWS
Here are some selected reviews from our customers who purchased single printable items that are included in the set...
WHAT YOU WILL RECEIVE
For every design, you will receive a professionally-produced High Resolution (great print quality) JPG file suitable for printing (saved at 300dpi), and either 3 PDF or JPG Files as follows:

The files will work well for the following print sizes:

☑ 4x6" PDF or JPG file (Design on a 8.5" x 11" page with helpful trim lines*)
☑ 5x7" PDF or JPG file (Design on a 8.5" x 11" page with helpful trim lines*)
☑ 8x10" PDF or JPG file*
☑ 18x24" (a JPG file that can be printed 11x14", yet printable up to 18" x 24" size, too!)
☑ Printing Information File

✎ 3 WAYS TO PRINT YOUR ARTWORK:
☑ Print on your Home or Office printer.
☑ You can upload to online services such as Shutterfly.com.
☑ Take the file to a local print store (Staples, for example).

PLUS! YOU'LL ALSO GET THESE BONUSES...
🎁 BONUS #1: Custom Sizes on any 5 of these designs. If you have frames with non-standard sizes (Square or 4x7" for example), Andrew Kelsall BA (Hons), the qualified Graphic Design who runs Passion Fury can supply up to 5 modified versions of any of the above Printables upon request. Once purchased, just get in touch!
This offer is valid up to an amazing 1-year after purchase, and each modified file is worth $10 USD in Professional Graphic Design fees.
TOTAL VALUE: $50!
🎁 BONUS #2: Another 5 Printables that are not listed here, which include:
☑ A Home Gym Printable & Moroccan Art
☑ A different-style Ampersand
☑ Two more Geometric Prints
TOTAL VALUE: OVER $34!
🎁 BONUS #3: The 'Rustic Arrows" Set (shown earlier on this page), but in Black and White.
☑ 11 Printable Designs
☑ 4 JPG/PDF Files for each Design
☑ Black & White Designs to suit any home color-scheme.
TOTAL VALUE: OVER $75!
FAQ SECTION:



✎ Who Designed these Printables?
All these Printable files were designed by English Graphic Designer & Illustrator, Andrew Kelsall BA (Hons), who runs this site (PassionFury.com) and has been designing for clients in the USA, UK, Canada and Australia since 2002.
✎ What Type of Paper should I print these on?
For simple designs, normal printer paper would work, although thicker paper for more intricate designs—and think glossy paper for photographic printables would work best.
✎ Can I put these designs on the walls of my work place?
Yes! Although please note these designs cannot be resold. As long as either you or your family get them printed, you can frame them :)
THIS BIG BUNDLE OFFER IS COVERED BY OUR 30-DAY MONEY BACK GUARANTEE
These Designs are copyright © Passion Fury by Andrew Kelsall Design: www.andrewkelsall.com & www.passionfury.com. This offer is Not Affiliated with Instagram, Facebook or any other social network.

Note that this is a digital download and Not a physical product. The images shown in this post are for illustrative purposes only, however, they portray how the printed product may look.
SHIPPING RATES & TIMES

📦 TSHIRT SHIPPING RATES

🇺🇸 USA - $2.49

🇬🇧 UK - $2.49

🇨🇦 Canada - $4.99

🇪🇺 Europe - $5.99


🇦🇺 Australia + 🇳🇿 New Zealand - $5.99


Rest of the World - $12.99

⚠️ We do not ship to Crimea, Cuba, Iran, Syria and North Korea (because of legal restrictions or shipping carrier limitations).

▬▬▬▬▬▬▬▬▬▬▬▬▬

📦 UNFRAMED POSTER SHIPPING RATES

🇺🇸 USA - $3.99

🇬🇧 UK - $3.99

🇨🇦 Canada - $7.99

🇪🇺 Europe/Australia/New Zealand - $8.99


Rest of the World - $18.99

▬▬▬▬▬▬▬▬▬▬▬▬▬

📦 FRAMED ART + CANVAS SHIPPING RATES

Note: The larger and heavier the framed artwork or canvas is, the more expensive the shipping cost will be. Shipping rates will be calculated at checkout.

🇺🇸 USA - $7.99+

🇬🇧 UK - $7.99+

🇨🇦 Canada - $13.99+

🇪🇺 Europe/Australia/New Zealand - $19.99+


Rest of the World - $39.99+

▬▬▬▬▬▬▬▬▬▬▬▬▬

🚚 GENERAL SHIPPING TIMES

◾ NOTE: Before the item is shipped (see below), be aware that your purchase is made to order and will be printed within 1-5 business days of purchase (average of 2-3 Days):

◾ After the item is printed, then the item will ship (see shipping times below):

🇺🇸 SHIPPED AND MADE IN THE USA FOR AMERICAN PURCHASES. Delivered within 1-3 Business Days.

🇪🇺 SHIPPED AND MADE IN THE EU FOR EUROPEAN PURCHASES. Delivered within 1-5 Business Days.

🇨🇦 Canada: 7-10 days

🌐 International: 8-20 days

📦 Protected and Secure Packaging.

(If shipping times are different to these in certain listings, those special listing times for special items will be outlined within the listing itself).

HOW ARE PASSION FURY TEES MADE? HOW DO THEY FIT?

Check out our videos which show how our Tees fit, and how they are Printed and Packaged, too!
QUESTIONS & ANSWERS

Got a question? You may find what you'll need to know below. If not, feel free to contact us.

HOW MUCH DOES SHIPPING COST?

That's a great question! Please see our Shipping Fees Section.

HOW LONG WILL DELIVERY TAKE?

We'd love to get your custom-printed item to you as soon as humanly possible, but see our Delivery Times Section for all the lovely info you need.

IS DELIVERY TRACKED?

Yes! We only use the best carriers—please see the image below which shows the major postage companies used to send your precious T-shirt, Mug, Phone Case or Artwork. Did we mention our products are securely-packaged, too?

WHERE DO YOU SHIP FROM?

Here at Passion Fury, we have fantastic production partners which are located in both the USA and within Europe, so be rest-assured that your item will be printed and despatched from the closest located to you. Sweet.

HOW ARE PASSION FURY TSHIRTS MADE? HOW DO THEY FIT?

Check out our videos which show how our Tees fit, and how they are Printed and Packaged, too!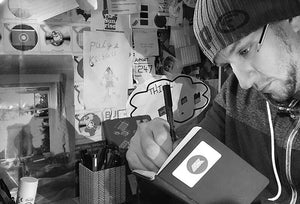 About Passion Fury Store
Hi — my name is Andrew Kelsall BA (Hons), an independent Graphic Designer and Illustrator from England, UK.

I've been working for clients from across the globe for over 20 years now. However, lately I've been wanting to create the types of Illustrations that I enjoy — and not being constrained by certain limitations client work can bring.

Here on Passion Fury, I have both a selection of Printable Art, and Printed Art (Posters and Canvas Art, etc) and Christian T-shirt Designs.
Learn more