Coffee Types Chart, Butterfly Lover Framed or Posters
⭐⭐⭐⭐⭐ See Product Reviews

Purchased from us? Please Review Us on Trustpilot.

Passion Fury is an Apparel & Art Store run by Andrew Kelsall BA (Hons), a creative Designer from England, UK. For the past 20+ years, I have been offering my services online as a graphic designer via Andrew Kelsall Design. Whilst working as a freelancer for small and larger Blue-Chip clients Worldwide, I also worked on an Etsy Store, where I sold mainly artwork and collected ⭐⭐⭐⭐⭐ reviews. Here are selected reviews from the 5-Star Feedback receive.

☑ Verify Genuine Etsy Reviews Here.

⭐⭐⭐⭐⭐ | Eliza on April 23, 2023

Pretty sticker and fast shipping

⭐⭐⭐⭐⭐ | Kodi on Dec 6, 2022

Awesome, just what i was looking for, thankyou!

⭐⭐⭐⭐⭐ | Yohana on Jul 28, 2022

Very nice shirt and print..very durable and size is true

⭐⭐⭐⭐⭐ | Beth on Jun 10, 2022

BRILLIANT! Thanks so much for this great helpful tool.

⭐⭐⭐⭐⭐ | Martina on May 30, 2022

Excellent quality poster, it's just as advertised

⭐⭐⭐⭐⭐ | Brian on May 30, 2022

Love it! Fits my personality!

⭐⭐⭐⭐⭐ | Brian on May 3, 2022

Everything was great! looking forward to giving it to my brother! thanks

⭐⭐⭐⭐⭐ | Anna on Feb 25, 2022

Great quality, exactly as described. Very helpful in learning the circle of 5ths!

⭐⭐⭐⭐⭐ | Juan on May 7, 2019

I love the t-shirt! Great quality & fit. Fast shipping

⭐⭐⭐⭐⭐ | Mai Thoi on Jan 28, 2022

Great product. Love the look.

⭐⭐⭐⭐⭐ | Colleen on Jan 25, 2022

Gorgeous silky card stock. colors vibrant and even. only mistake was my own. I should have ordered it framed.

⭐⭐⭐⭐⭐ | Hildie on Nov 16, 2021

Adds to my festive atmosphere with a sweet message and design.

How are Passion Fury Tees Made? How do they fit?

Check out our videos which show how our Tees fit, and how they are Printed and Packaged, too!
📦 No Hidden Shipping Costs: Prices are Inclusive of Delivery.
🖼️ See Our Printable Version of This Artwork.
 ✔ TYPES OF COFFEE CHART WITH BUTTERFLIES - Butterflies Wall Art Decor,; Vintage & Minimalistic Design Shows Coffee Varieties and Flavors Complete with Coffee Beans, Names, Ingredients & Amounts. It Shows the Ratios of How Much Steamed, Scalded, Foamed or Micro-foamed Milk Is in Each Variety, with Coffee to Water Ratio for French Press & Coffee Machines
✔ STUNNING YET SIMPLE DESIGN - If You're Looking for Artwork That is a One-off Design Just Your Family or as an Original Gift, Then This Artwork is Perfect for you
✔ PERFECT CONVERSATION PIECE OF ART - This Ingenious and Elegant Design Shows the Coffee Golden Ratio of Many Drinks from Across the World - Talk over a Hot Cup of Drip, Brewed or Filter Coffee
✔ GREAT GIFT For Friends, Family, Owner or Barista of a Coffee Shop, Diner or Cafeteria
Note that the 24x36" Version is a Taller Print, while the other varieties (such as 8x10") have a more condensed version of the design, where less of the map shows near the top.

🖼️ Posters & Black-Framed Prints
▬▬▬▬▬▬▬▬▬▬▬▬▬
▻ 8 x 10 in | 20.5 x 25.5 cm
▻ 12 x 16 in | 30.5 x 40.5 cm
▻ 12 x 18 in | 30.5 x 45.5 cm
▻ 16 x 20 in | 40.5 x 51 cm
▻ 18 x 24 in | 45.5 x 61 cm
▻ 24 x 36 in | 61 x 91.5 cm

▽ Printed on thick, durable, matte paper. The matte black frame that's made from wood from renewable forests adds an extra touch of class.

▻ Alder, semi-hardwood frame
▻ Black .75" thick frame
▻ Acrylite front protector
▻ Lightweight
▻ Hanging hardware included

▻ Printed Colors may slightly differ to what you see on PC or Mobile device.
▻ Import Tax may apply in certain countries outside of the USA.

All Designs are Copyright © Passion Fury by Andrew Kelsall Design // www.andrewkelsall.com

(Office Use: ART-F-P 0006-D)

📦 Price is Inclusive of Delivery Costs for This Artwork.
SHIPPING RATES & TIMES

📦 TSHIRT SHIPPING RATES

🇺🇸 USA - $2.49

🇬🇧 UK - $2.49

🇨🇦 Canada - $4.99

🇪🇺 Europe - $5.99


🇦🇺 Australia + 🇳🇿 New Zealand - $5.99


Rest of the World - $12.99

⚠️ We do not ship to Crimea, Cuba, Iran, Syria and North Korea (because of legal restrictions or shipping carrier limitations).

▬▬▬▬▬▬▬▬▬▬▬▬▬

📦 UNFRAMED POSTER SHIPPING RATES

🇺🇸 USA - $3.99

🇬🇧 UK - $3.99

🇨🇦 Canada - $7.99

🇪🇺 Europe/Australia/New Zealand - $8.99


Rest of the World - $18.99

▬▬▬▬▬▬▬▬▬▬▬▬▬

📦 FRAMED ART + CANVAS SHIPPING RATES

Note: The larger and heavier the framed artwork or canvas is, the more expensive the shipping cost will be. Shipping rates will be calculated at checkout.

🇺🇸 USA - $7.99+

🇬🇧 UK - $7.99+

🇨🇦 Canada - $13.99+

🇪🇺 Europe/Australia/New Zealand - $19.99+


Rest of the World - $39.99+

▬▬▬▬▬▬▬▬▬▬▬▬▬

🚚 GENERAL SHIPPING TIMES

◾ NOTE: Before the item is shipped (see below), be aware that your purchase is made to order and will be printed within 1-5 business days of purchase (average of 2-3 Days):

◾ After the item is printed, then the item will ship (see shipping times below):

🇺🇸 SHIPPED AND MADE IN THE USA FOR AMERICAN PURCHASES. Delivered within 1-3 Business Days.

🇪🇺 SHIPPED AND MADE IN THE EU FOR EUROPEAN PURCHASES. Delivered within 1-5 Business Days.

🇨🇦 Canada: 7-10 days

🌐 International: 8-20 days

📦 Protected and Secure Packaging.

(If shipping times are different to these in certain listings, those special listing times for special items will be outlined within the listing itself).

HOW ARE PASSION FURY TEES MADE? HOW DO THEY FIT?

Check out our videos which show how our Tees fit, and how they are Printed and Packaged, too!
QUESTIONS & ANSWERS

Got a question? You may find what you'll need to know below. If not, feel free to contact us.

HOW MUCH DOES SHIPPING COST?

That's a great question! Please see our Shipping Fees Section.

HOW LONG WILL DELIVERY TAKE?

We'd love to get your custom-printed item to you as soon as humanly possible, but see our Delivery Times Section for all the lovely info you need.

IS DELIVERY TRACKED?

Yes! We only use the best carriers—please see the image below which shows the major postage companies used to send your precious T-shirt, Mug, Phone Case or Artwork. Did we mention our products are securely-packaged, too?

WHERE DO YOU SHIP FROM?

Here at Passion Fury, we have fantastic production partners which are located in both the USA and within Europe, so be rest-assured that your item will be printed and despatched from the closest located to you. Sweet.

HOW ARE PASSION FURY TSHIRTS MADE? HOW DO THEY FIT?

Check out our videos which show how our Tees fit, and how they are Printed and Packaged, too!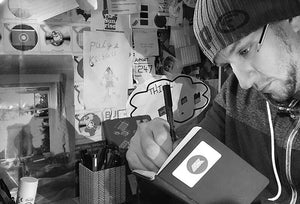 About Passion Fury Store
Hi — my name is Andrew Kelsall BA (Hons), an independent Graphic Designer and Illustrator from England, UK.

I've been working for clients from across the globe for over 20 years now. However, lately I've been wanting to create the types of Illustrations that I enjoy — and not being constrained by certain limitations client work can bring.

Here on Passion Fury, I have both a selection of Printable Art, and Printed Art (Posters and Canvas Art, etc) and Christian T-shirt Designs.
Learn more